UK and Estonia enjoy lowest non-performing loan ratio;
High NPL ratios in Greece, Cyprus, Portugal and Italy suggest they are attractive markets for investment.
Global consulting firm Axis Corporate has today released its outlook for European non-performing loan markets as part of the third iteration of its annual Assets Under Management report. This draws on an assessment of financial and property assets across major banking institutions in 2018 and concludes that Europe, while still in recovery mode, is likely to see slower growth in 2019 with the level of toxic assets impacting inflation and growth.
The Assets Under Management report offers an overview of the health of each European state referencing the year-on-year change across three key indicators: non-performing loan ratios on banks' balance sheets, the unemployment rate and GDP. In aggregate, Europe continues to enjoy a robust recovery buoyed by unemployment levels at pre-crisis levels, although some states are still burdened by elevated government debt which will inhibit future investment. For instance, Italy's deficit of 131% of GDP and record levels of sovereign debt in Spain – currently at 98% of GDP – will act as a deterrent to potential investors.
The report ranks each European state according to the non-performing loan (NPL) ratio on banking balance sheets and finds that 2018 saw a general improvement over the previous year with the European average sitting at 6.89%. The UK, along with Estonia has the lowest NPL ratio at 0.7%. Germany and the Netherlands sit in joint seventh place with NPL ratios of 2.1% while France comes 12th with an NPL ratio of 3.1%. At the other end of the spectrum, Greece has an NPL ratio of some 46.0%, followed by Portugal at 38.9%.
The status of non-performing loans is however improving. The report notes that in the first three quarters of 2017, eurozone banks offloaded some 119 million euros in toxic assets. Default rates in countries like Cyprus, Portugal and Ireland are significantly lower than over the last four years, while the likes of Italy, Portugal, and Greece continue to sell off relatively high levels of toxic assets. However, slowing growth and changes in monetary policy are likely to have depressed monthly rates of asset purchases towards the end of 2018.
The Assets Under Management report offers further insight into the six countries with the highest NPL ratios: Greece, Cyprus, Portugal, Croatia, Ireland and Italy, as well as Spain. It provides an analysis of the year-on-year change in a range of indicators including NPL ratios, distressed portfolios, mortgage collateral and coverage ratios across the largest banking institutions in each jurisdiction and offers an overview of the implications for the broader economy.
In addition to its pan-European overview, Assets Under Management offers an in-depth study of the health of the Spanish real estate market and an assessment of the role asset holders, property services and real estate investment trusts play within it.
José Masip, partner, financial services and real estate at Axis Corporate, said, "As 2019 unfolds, prospects for the European Union remain positive and we continue to see an overall economic improvement. Nonetheless, headwinds remain: the need to strengthen the euro against the appreciation of safe-haven currencies; a potential tightening of monetary policy at the tail end of the year and political uncertainty, particularly surrounding Brexit negotiations. In addition, banking returns continue to be subdued, in part due to the high levels of toxic debt sitting on balance sheets, but also because of a need to manage legacy issues caused by unforeseen liabilities which come as part of any acquisitions.
"Looking at investment in non-performing loans, Greece, Cyprus, Italy and Portugal have the potential of being important new markets. Their success however will be determined by their ability to address the macroeconomic challenges they face."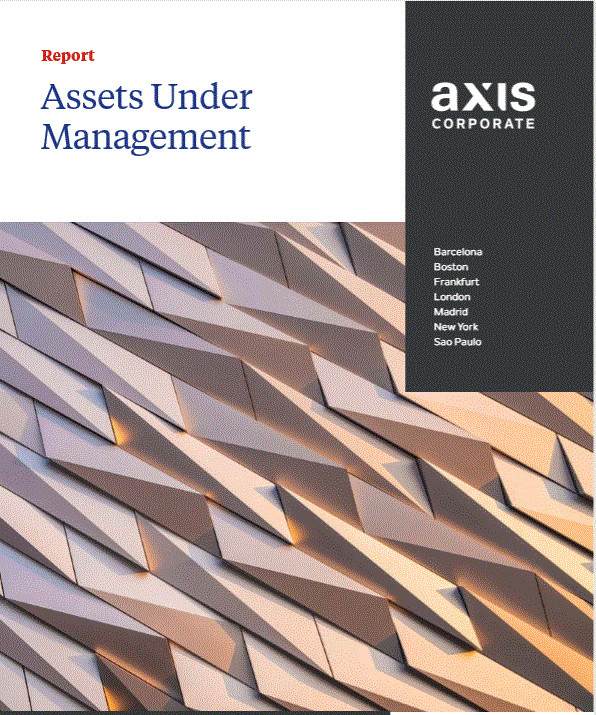 Download "Assets Under Management Report":
For further information, please contact:
Siobhan Allen
Marketing manager
Axis Corporate
07714 462285
Or
Hugo Mortimer-Harvey
07769 722663
hugomortimerharvey@hotmail.com
Notes to editors
About Axis Corporate
Axis Corporate is an international management consulting firm dedicated to improving companies' business results. Employing 200 professionals across seven offices in the UK, Spain, Germany, the US and Brazil, it enhances enterprise performance from strategy to business model definition, through to operational impact. Founded in 2006, Axis Corporate helps clients to deliver value through regulation, transformation and innovation initiatives.
For more information, visit www.axiscorporate.com/uk