Chancellor Rishi Sunak has unveiled an "unprecedented" set of financial measures to support the UK economy through the coronavirus pandemic. 
They include mortgage "holidays" for those in financial difficulty as well as £330bn in loans and £20bn in other aid to protect businesses facing losses as a result of the virus.
Cash grants worth £25,000 would be made to retail, leisure and hospitality firms to help them survive the period of turbulence.

The smallest businesses in the country across all sectors of the economy will be able to seek grants worth £10,000.

£330bn in loans – equivalent to 15% of GDP – would be available from next week to help businesses pay for supplies, rent and salaries.

A business interruption loan scheme. This will support up to £1bn worth of lending to smaller businesses with the government guaranteeing bank loans to small businesses of up to £1.2m. Banks will be covered for losses of up to 80% of each loan.
Business rates support. Business rates will be scrapped for smaller firms in the retail, leisure and hospitality sectors. This will apply to premises with a rateable value of up to £51,000.
Cash grants for other small businesses. Those SMEs that already pay no business rates will be eligible for a £3,000 cash grant, worth a total of £3bn.
Tax payment extensions. The Government has promised to scale up the Time to Pay scheme operated by HM Revenue & Customs, allowing businesses and the self-employed to defer tax payments.
If more help was needed it would be provided, with a pledge to deliver "whatever it takes" to keep companies and households solvent.  Rishi Sunak, Chancellor, UK
Pensions and Investments have been hit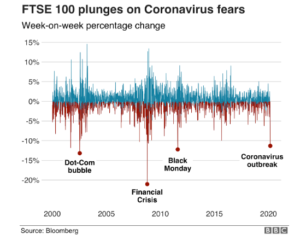 Globally, the dismal week on stock markets has so far wiped about $5 trillion from the value of listed companies around the world, according to Capital Economics' chief economist Neil Shearing. He said that affected the value of pension pots and could make it more difficult to borrow money if banks become more fearful of taking risks.
What is happening elsewhere…
FT "European bankers are trying to calm fears about an incipient financial crisis after huge drops in their securities over the past two weeks, reflecting growing investor concern about the economic fallout of the coronavirus pandemic."
Bloomberg "The European Central Bank freed banks to put some of their financial cushions to work, a key plank in its effort to counter the economic damage from the coronavirus. Lenders will be permitted temporarily to operate with less capital than the watchdog usually demands and also use types of subordinated debt to help meet their requirements, enacting measures the banks had sought. The central bank's other steps to pump more money into the economy included more asset purchases and some loans at negative interest rates. The ECB's moves come a day after the Bank of England cut rates and introduced a series of emergency measures, including lower capital requirements and a lending program for smaller companies."
Coronavirus crisis requires urgent and agile action
UK SME lender OakNorth was one of the first sending alarm for a more agile approach from the government to assist businesses through this period of turbulence caused by the Coronavirus pandemic.
The first response to the problem of lack of liquidity that SMEs will be facing, the government is set to underwrite loans to businesses adversely affected by the outbreak.
The existing Enterprise Finance Guarantee Scheme (EFG) was aimed at encouraging lenders to grant loans to businesses that would have otherwise been regarded as too risky, with the government guaranteeing the debt.
As part of the new scheme, British Business Bank (BBB) will guarantee 80% of loans of up to £1.2 million and waive the 2% annual fee that borrowers were charged for using EFG.  It is understood that the BBB will be laying out the eligibility criteria for the new scheme in the coming weeks, a timescale that is sure to cause not a few sleepless nights for companies in many industries.
IR35 postponed
The government announced that the IR35 tax reforms would be pushed back by one year, less than a week after the controversial measures were confirmed in the Budget. Instead, the measures will come into effect on 6 April 2021.
SMEs struggling with their cashflow
Two-thirds of SMEs are now seeing significant pressure on their cash flows. Many SMEs report payment delays on orders and work already completed. Three-quarters of business owners report invoices due to be settled at the end of February have not yet been paid according to MarketFinance.
BoE says it is prepared to pump unlimited money into the economy
It had become clear that large companies, as well as small ones, were running short of cash and needed facilities to borrow quickly and cheaply. Bank of England governor, Andrew Bailey