With the rapid deployment of products and services increasingly becoming crucial for business success, compliance teams are often challenged to keep up. In these environments, increasing the efficiency and effectiveness of the compliance functions provides a competitive edge. We help Fintechs and forward-thinking incumbents turbo-charge their compliance organisation – minimising cost, while making the most of "Reg Tech" capability and an increasingly technology-friendly regulatory community.
We work with Founders, Strategy, Risk and Compliance teams to rapidly implement proven compliance models that help them meet their regulatory obligations by innovative and cost-effective means. This can often bring the best of the available market to a sub-scale operation that would otherwise struggle to compete and provide suitable assurance.
We start by building a clear understanding of your business – looking at aspirations, current and future regulated activities and obligations, as well as existing compliance procedures. We rapidly assess whether exposure to regulation can be reduced before exploring areas where innovative compliance solutions could increase operation efficiencies.
We work to identify potential RegTech solutions to provide, low-cost, technology-enabled compliance across an ever-increasing range of topics. We aim to help clients bake compliance into a product design input, rather than an overlay or afterthought.
As ever, we remain vendor and solution agnostic.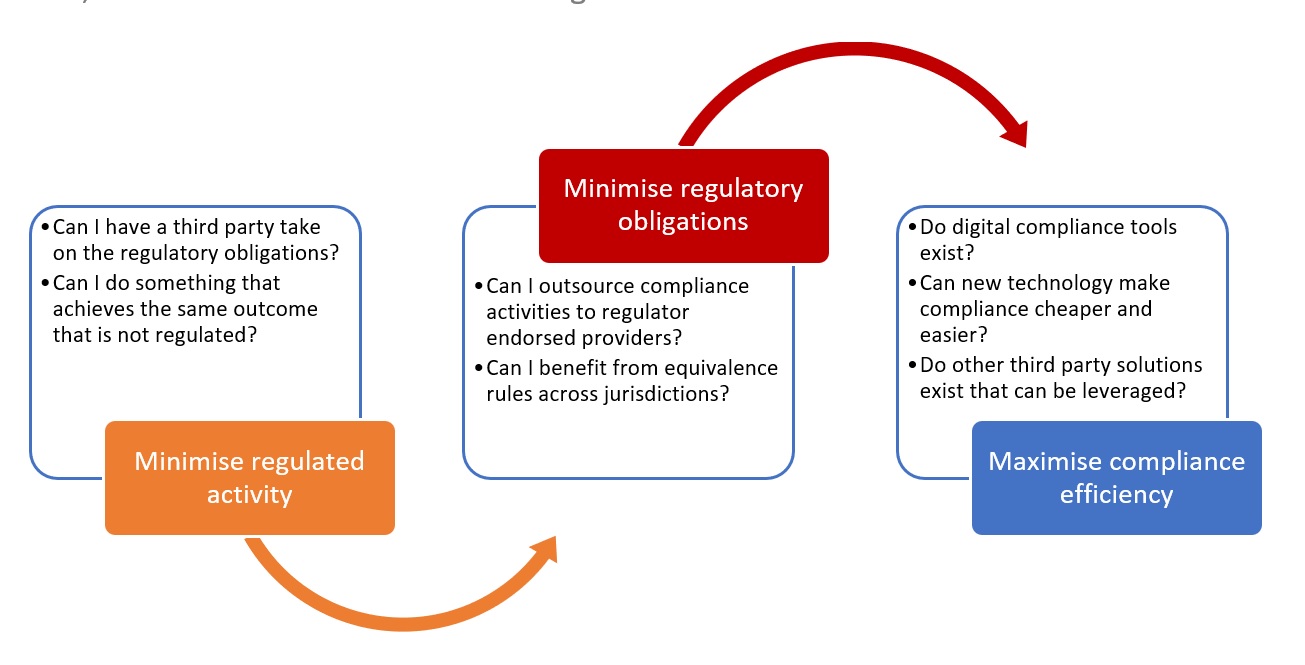 As part of the process we help clients answer key questions.
How can we achieve compliance without slowing product delivery?
Where can compliance requirements offer direct customer benefits?
Where can compliance requirements offer commercial advantage?
How can our compliance operation incorporate a means for continuous improvement?
What roles can APIs play? Can they accelerate the compliance journey?
Should we select small, nimble providers or proven global players as regulatory / compliance partners?
More solutions on Master our cost base