Favourable capital conditions and a broad range of attractive markets are encouraging FinTechs and Challenger Banks to look beyond home markets and focus on international expansion. While the rewards in users and revenue await those who are successful, it requires dexterity to successfully navigate the product, regulatory, talent and technology challenges involved. Axis has unique experience helping organisations land successfully in the UK and internationally.
We work with clients to help validate expansion business cases and plans – providing external validation and opportunities to accelerate and uncover hidden value.
Over a period of weeks, not months, our teams work collaboratively with clients to build a clear plan to design, pilot and roll out compelling products and services for a chosen market. We bring our extensive FinTech network to accelerate partner conversations and commercial processes.
Operating transparently and out in the open, we provide "on-the-ground" support for executive teams and business leaders. We proactively identify and solve regulatory, technology and commercial challenges as well as work to build a high-performing team to spearhead product launch and scale-up.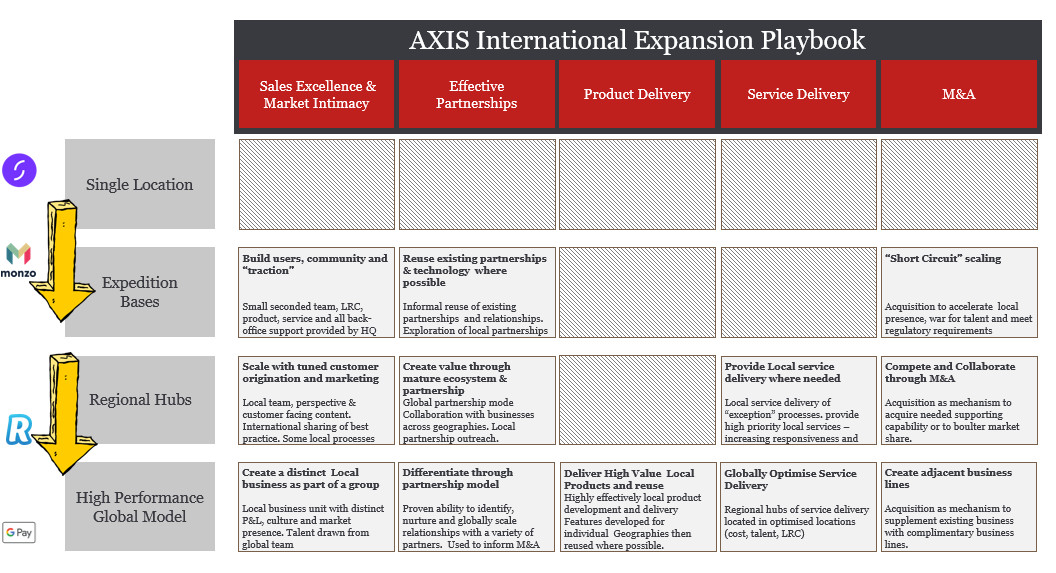 As part of the process we help clients' answer key questions:
What are the priority markets we should focus on? What does the competitive landscape look like?
How do we build a team and execute in an unfamiliar geography?
How do we maximise the value of our existing partners and technology while taking advantage of local leaders?
How do we build a clear plan to launch with so many uncertainties?
What should we target as KPIs in our first 12 months?